Custom Framing
NYC & NJ
20 years of experience in
New York and New Jersey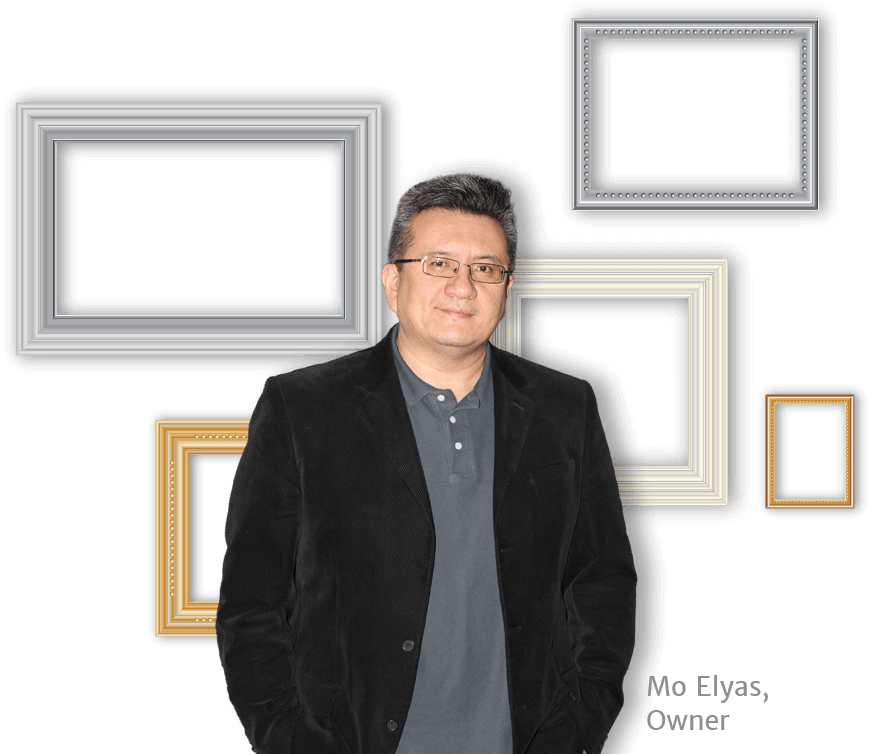 Local Custom Framing Store
We are professional yet local a mom and pop frame shop. We frame items for your home such as diplomas and wedding pictures. We also frame for corporation, such as framing patents, stock certificates and posters. We can scan, print and frame your items. Unlike big box stores we do not inflate our prices then offer a 70% discount coupon. We do not play pricing and coupon games. We offer fair and consistent pricing that makes sense. We care about our customers and strive to provide the best work and most helpful customer service because we value your business. The framers at our brick and mortar stores take pride in their work and want to make the custom framing process easy and fun for you! We can help if whether you are looking for museum quality framing, custom made frames, oval frames, or anything custom made.
"Mohommad is so helpful, friendly, and gave great advice on what framing to do. The pieces came out perfect. They are also quite reasonable with price.
Warmly,
Ashlee"
"Mohammed has done a wonderful job framing several pieces for me since I discovered Big Apple earlier this year. Although it's pricey (as is any custom frame shop), the turn-around is quick and the quality is excellent. They have a wide selection of frames and mats for a range of prices. Always a great experience and final product, definitely recommend."
"He provides reassurance, quality and kindness with every consultation. I've worked with him on many occasions and he has an extraordinary ability to meet impossible deadlines and is very accommodating to every budget. I've had a large range of different projects that he has tailored to perfection. Every time I walk out of Big Apple Art Gallery, I know everything will be taken care of."
"Mohammed is extremely knowledgable and easy to work with, and on top of all that, his prices are quite reasonable! I highly recommend his shop — he has been my go-to framer for several years now."
Professional Picture Framers Association
We are an active member of the Professional Picture Framers Association and use the latest preservation methods to frame your art and preserve it for generations to come.
As an ASID Industry Partner, we are picture frames for the the best interior designers in NYC.
W
e have an amazing selection of over 8000 different frames for you to choose from. Wood frames, metal frames, modernist frames, Italian, Dutch and French-style frames, and more. Whether you are looking for something modern and simple or something classic and elaborate, you will most certainly find a perfect custom frame in our NYC and New Jersey stores.
I
t is one thing to get your framing order completed quickly and it is another to get it done right but we don't make you choose! Whether you need it done in a rush or not, we guarantee the job will be done right with conservation mats, frames and glass. Our operation can handle large orders, but what we are most proud of is just how fast we can complete an order when you are up against a deadline. We even offer delivery and installation services as well!
Y
ou don't need to break the bank to get something framed. We have a wide range of option that can keep the cost of a frame as reasonable as you need it. Please let us know about your budget, and we will go to work to get you the best looking, good quality designs to give you the most for your money. We look forward to meeting you for a hassle-free, no obligation price quotes!
I am Mo Elyas, owner of Big Apple Art Gallery & Custom Framing and Picture Framing Factory. If you have any questions or comments, feel free to drop me an email or give me a call.
Framers.com has two locations:
Big Apple Art Gallery & Custom Framing
mohammede18.sg-host.com/new-york
405 Lexington Ave, FL9 , New York, NY 10174
bigappleartgallery@gmail.com
Every day: 9:00 AM – 9:00 PM
Framers NYC is a branch of Framers.com
mohammede18.sg-host.com/new-jersey
Luxe Frames, 244 US-46, Fairfield, NJ 07004
framers@pictureframingfactory.com
Mon-Fri: 10:00 am -7:30 pm,
Sat: 10:00 am-6:00 pm, Sunday: closed
Framers NJ is a branch of Framers.com